Published by rudy Date posted on January 31, 2018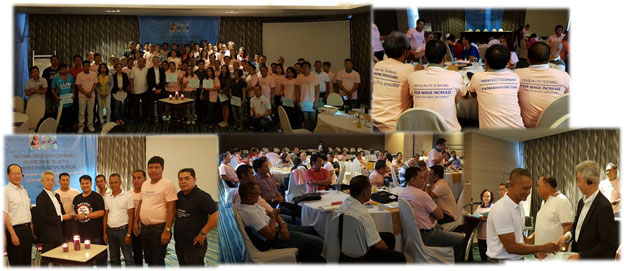 May 18-19, 2017 — "Enforce constitutional and labor code provisions on security of tenure; scrap D.O. 174, s.2017!" was the thundering call of some 86 union leaders, members, and workers in the National Conference on Employment Security and Constructive Industrial Relations held in Manila on 18-19 May 2017 with the theme: "Promoting Inclusive and Sustainable Growth, Employment and Decent Work." Read more.
Unions also called for (a) better labor inspection and stronger penalties for violations of labor and OSH standards, including against active and forceful employer and government interventions in union organizing; (b) stronger and wider labor education and information dissemination (on labor standards, workers' rights, constructive industrial relations, future of work, etc.) for unions and general workers; (c) respect for workers' rights, especially freedom of association and collective bargaining, and strengthened organizing efforts; (d) skills-building for unions and workers including capacity building and specific activities on just transition; (e) organizers' access to special economic zones for labor education and organizing; (f) social safety nets; (g) more active union programs and activities on Climate Change, Green Jobs & Sustainable Development; and (h) cooperation with JILAF and JTUC-RENGO on capacity-building programs and union organizing, especially in Japanese multinational enterprises in the Philippines.
The participants, one-third women, represented unions in five Japanese manufacturing enterprises in special economic zones and other unions inside and outside the zones from Luzon, Visayas, and Mindanao.
The conference provided a venue to discuss important concerns, issues, challenges, and experiences in TUCP and its affiliates' struggle for "Decent Work for All": (1) "The Role and Challenges of The Japanese Labor Movement" by JILAF Director General TAKAO YASUNAGA; (2) "Industrial Relations in the Philippines" by TUCP Director for Education RAFAEL E. MAPALO; (3) "A Studied View of Dole Department Order 174, S2017" by National Labor Unions President DAVE DIWA; (4) "The State of Labor Inspection and Labor Law Compliance System" by Bureau of Working Conditions (BWC-DOLE) Director TERESITA CUCUECO; (5) "Labor Relations In Special Economic Zones" by PEZA Industrial Relations Division Chief ALLAN DATAHAN; (6) "The Wows and Woes in Organizing in Special Economic Zones" by Obrero Pilipino President/TUCP General Secretary RODOLFO M. CAPOQUIAN; (7) "Organizing in the BPO Industry" by Voice in the Call Center Industry (VOICE) President ANGELITA SENORIN; (8) "Industrial Relations and Employment Security: Issues Affecting Women Workers" by TUCP Director for Women FLORENCIA P. CABATINGAN; (9) "ASEAN Community Economic Integration 2015: Its Impact to Teachers" by Samahan ng Manggagawang Pilipino-National Alliance of Teachers and Office Workers (SMP-NATOW) Director ELMER NORIEGA; (10) "Public Sector Unionism" by Teachers of the Philippines-Public Sector TOPPS Director WILMARK RAMOS; (11) "Addressing Root Causes of Informality in Economic Units and its Workers" by Alliance of Workers in the Informal Economy Sector (ALLWIES) President SUSANITA G. TESIORNA; and (12) "Just Transition to Green Economy" by ILO Project Officer GWEN PALMOS
TUCP President RUBEN TORRES concluded the program with a call for the government to do what it promised and to do what is right for workers, for their families, and the country. He pledged strengthened unions to push for decent work and inclusive growth for all.
Japanese Labor Attaché in the Philippines MANABU YASUKAWA stressed how the conference can cultivate improved social dialogue and constructive industrial relations at the enterprise level. He wished TUCP and the participants well in their struggle for core labor standards, particularly, security of tenure, decent wages, and working conditions.
The conference closed with a candle-lighting ceremony and a minute of silence in commemoration of the International Day of Mourning dedicated to countless workers who died, injured or got sick because of unsafe, unhealthy, and unsustainable working conditions and practices.